Solar in West Bank/Gaza: Massader School Rooftop and PRICO Solar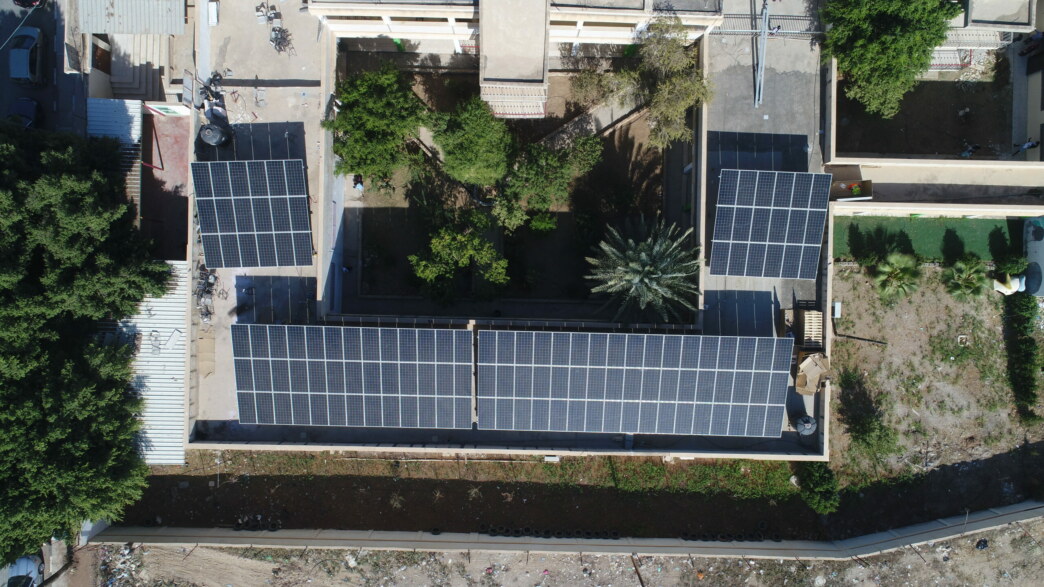 Solar in West Bank/Gaza: Massader School Rooftop and PRICO Solar
Project Overall Goal
Climate mitigation
Executive Summary
PRICO Solar and Massader School Rooftop are the first-of-their-kind private sector investments to unlock large-scale distributed generation in the West Bank and Gaza.
Gaza's energy crisis is longstanding – and devastating. Power outages routinely stretch multiple hours a day, hampering factories and businesses in a region where the economy is already under immense strain from political unrest and a decade-long blockade. Gaza is racked by poverty and unemployment is one of the highest rates in the world. Daily power outages range from 12 to 16 hours with annual supply at only one third of the peak demand. During supply interruptions in the Gaza Industrial Estate, the factories are forced to either shut down operations, scale back output and reduce paid working hours or generate their own electricity via private diesel generators at a substantially higher cost than electricity from the grid. In the West Bank, access to clean, affordable, and reliable energy is rare and blackouts are common — a part of daily life for many students while at school.
Land scarcity is at the core of fragility in the region: Gaza is one of the most densely populated places in the world and the West Bank is shackled by land ownership constraints, with the power to control only land that falls under Area A (approximately 18% of the total territory of the West Bank). The region relies heavily on imports to meet electricity needs.
IFC supported the first private sector investments in domestic power supply in the West Bank and Gaza: PRICO's rooftop solar energy facility is IFC's first large-scale solar energy installation in Gaza. The largest of its kind in Gaza, the project involves the development, financing, construction, operation, and maintenance of a 7.3 MWp rooftop solar photovoltaic power plant developed by PRICO (the local sponsor) located inside the Gaza Industrial Estate (GIE). The PRICO solar plant will generate and distribute up to 80 percent of the electricity needs of the GIE, keeping 32 factories running, thereby providing employment to nearly 800 people (currently, it is producing an excess of electricity that is being released to the grid). The GIE is connected to the larger power grid and will enter under a net metering agreement with local distribution company Gaza Electricity Distribution Company.
The West Bank also has limited generation capacity of its own, being almost entirely reliant on Israel for its supply. While not on the same scale as Gaza, power shortages occur frequently across the West Bank. Building on the PRICO framework and design, Massader Solar is an IFC project in the West Bank that is outfitting hundreds of local schools with solar panel arrays in parts of the West Bank to provide up to 30-megawatt peak (MWp), enough to power more than 16,000 houses across the West Bank. Massader (supported by local sponsor Massader Company for the Development of Natural Resources and Infrastructure projects) also leveraged a hybrid financing structure – including blended concessional finance from two different programs – to enable investment in this high-risk region.
Distributed Generation (DG) has potential to truly move the needle of decarbonizing power systems, while also addressing the access-to-energy problem that is faced by millions of poor and those living in fragile and conflict-affected regions. IFC investments in the West Bank and Gaza demonstrate that these kinds of large-scale solar DG projects can be done by the private sector in challenging regions with remarkable impact for the local population. Given the expected increase in demand from population growth, efforts to encourage investments in renewables are critical in Fragile and Conflict-Affected regions, in particular as they i) reduce reliance on imported power, ii) ramp up affordable and clean sources of energy like solar, and iii) support local job creation, improving the robustness of otherwise fragile economies.
Now, not only are the Projects beginning to make a significant difference to the area's electricity supply, reducing dependence on imports and power generated from costly back-up generators, they do it at a cost affordable to the consumers – schools, manufacturing facilities, businesses.
Project Details
Tags:
Asia, Low Middle Income Countries, Mitigation, blended
Source of Capital:
Bilateral, Multilateral & Development Finance Institutions, Public Institution Investors, Corporate Expenditure