Greater Cairo Metro Line no. 4 Phase I Project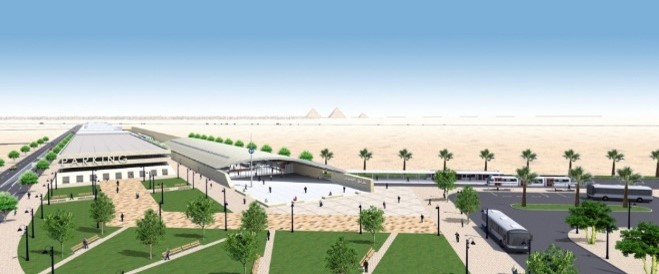 Greater Cairo Metro Line no. 4 Phase I Project
Project Overall Goal
The first phase of Line No. 4 will connect Cairo to 6th of October City with an 18-kilometre-long mass transit railway line. Phase I will construct sixteen stations, a depot, and an operations control center by 2026.
Executive Summary
The objective of the Project is to meet with growing traffic demand by enhancing capacity of public mass transportation through construction of Metro Line No.4, thereby contributing to promote economic activity in the Greater Cairo.
The Project will facilitate connection from the west entrance of Greater Cairo, (where exist the new urban community 6th of October City and main desert roads to Alexandria and Fayoum) to the east and the middle of Greater Cairo near El-Fustat. Phase I length is about 18 km and all stations are underground. The Project will also connect with the existing metro network in two points: Giza Station (with Line 2) and El-Malek El-Saleh station (with Line 1). These connections will result in facilitating transportation in the very congested areas, enhancing the mobility of passengers, and increasing the capacity and effectiveness of the metro networks in Greater Cairo. The Project is also expected to give a good access to the Grand Egyptian Museum and reduce the congestion around it by including a station there.
The implementing agency is the National Authority for Tunnels under the Ministry of Transport.
JICA will support financing the project by loan with soft terms: 0.1% interest rate for works and 0.01% interest rate for consultancy services. The repayment period will be 40 years including 10 years grace period.
The implementation of the project started in 2020. The project opened the door for Japanese and Egyptian Companies to work jointly in the implementation of the following activities: (a) Civil Works: including construction works of stations, tunnel body, workshop, track works and other related works; (b) Electrical Mechanical Works: including power stations, high voltage stations, signaling and telecommunications and other related works; (c) Procurement of Rolling Stocks and Equipment; (d) Consulting Services.
Line 4 will be an eco-friendly transport facility with few CO2 or other GHG emissions from operation.
It is expected that the project will be the symbol of long term cooperation between Japan and Egypt in the field of public transportation.
Project Details
Tags:
Mitigation and Adaptation, non-blended instruments, Africa, Low Middle Income Countries
Source of Capital:
Bilateral, Multilateral & Development Finance Institutions