Low Carbon Cooling for Small Hold Farmers in India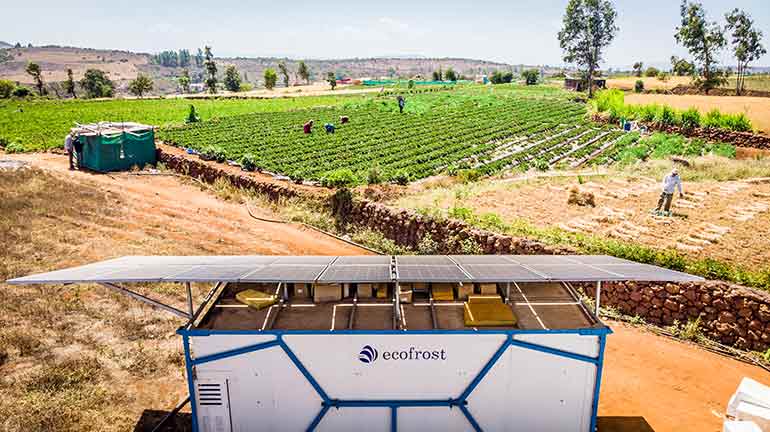 Low Carbon Cooling for Small Hold Farmers in India
Project Overall Goal
Support the livelihoods of small hold farmers in India in the face of rising temperatures, reduces food wastage, and reduces dependency on fossil fuels.
Executive Summary
Indian start-up, Ecozen Solutions manufactures solar-powered micro-cold storage units and water pumping technologies for small hold farmers and rural communities. Their Ecofrost Solar Portable Cold Room uses thermal energy storage, reduces and/or avoids the costly and environmentally damaging use of diesel power generators or chemical battery technologies. The Solar PV as the primary source of energy so it enables emissions reductions by reducing the use of fossil fuels for energy, reduces food wastage and increases the penetration of technology into off grid geographical regions. It provides a solar powered cold storage with thermal technology to provide 30 hours of backup cooling without the need for conventional energy solutions. The service support farmers' incomes and drives efficiency in the agricultural value chain. 
The company provides cooling services through the provision of cooling equipment to users through a variety of financing models such as upfront purchase, leasing or community funding models. The company also provides the equipment and technology for Cooling as a Service businesses such as SokoFresh.  
Since founding Ecozen Solutions has raised a total of $14.07M in funding through 8 funding rounds. In June 2022 it raised $7M in a combination of Series C and Debt rounds. Investors in the round included Dare Ventures (corporate venture arm of agricultural firm Coromandel International), Hivos-Triodos fund (a partnership between international development organization Hivos International and Dutch Investment Manager Triodos) and Indian VC Funds Caspian Impact Investments, Northern Arc Investments, and Maanaveeya. Initial seed funding came from Omnivore a venture fund investing in early-stage agriculture & food technology companies in India, capitalised by a variety of commercial and philanthropic/impact both local and international investors including Sidbi, RBL Bank, Sorenson Impact Foundation, The Rockefeller Foundation, Dutch Good Growth Fund (DGGF), Ceniarth, and KfW, a German government development bank.  
Project Details
Sector:
Cleantech/Agritech
Tags:
Asia, Low Middle Income Countries, Mitigation and Adaptation, non-blended instruments
Source of Capital:
Venture Capital Philanthropy, private donors and impact investors Bilateral, Multilateral & Development